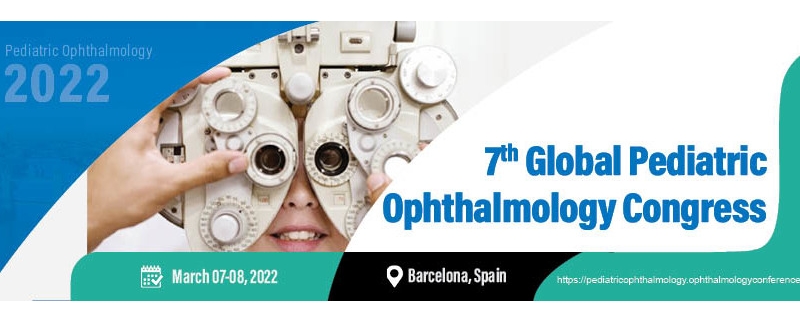 7th Global Pediatric Ophthalmology Congress
Pediatric Ophthalmology 2022 Scientific Committee will be honored to welcome you to the 7th Global Pediatric Ophthalmology Congress to be held during March 07-08, 2022 Barcelona, Spain.
7th Global Pediatric Ophthalmology Congress will raise the most dynamic and latest issues in the field of Pediatric Ophthalmology. The Congress will highlight the discussion around the theme "Unmasking Pediatric Ophthalmology & Strabismus by Rethinking, Recreating and Reimagining" by bridging the gaps between the intellectuals from across the globe to enlighten their research and findings at Pediatric Ophthalmology 2022. The highlights of the conference include Pediatric Ophthalmology & pediatric cataract surgery, pediatric optometry, pediatric strabismus, pediatric glaucoma, retina and retinal disorders, cataract diabetes, optometry and vision science and many more.
Pediatric Ophthalmology is a subspecialty of ophthalmology managing youngster's eye infections. The human visual framework creates as the mind develops a procedure that takes around ten years. In spite of the fact that an infant's eyes are optically equipped for seeing, new born child vision is restricted to around 20/1500 (the capacity to see the states of individuals yet not their elements), to some degree in light of the fact that the cerebrum has not figured out how to handle the visual messages it gets. As visual advancement continues, that same youngster will in the end have the capacity to recognize the finest subtle elements in a picture.
Conference Sessions
Pediatric Ophthalmology
Pediatric Cataract Surgery
Pediatric Optometry
Pediatric Strabismus
Retina and Retinal Disorders
Pediatric Glaucoma
Pediatric Neuro-Ophthalmology
Amblyopia (Lazy Eye)
Ocular Oncology
Cataract Diabetes
Age-related macular degeneration (AMD)
Optometry and Vision Science
Ophthalmic Research and Drug Development
Protective Eye Care and New advancements
Advanced Vision Science
Refractive Errors and Management
Pediatric Contact Lens
Vision Screening
Low Vision
Reconstructive & Functional Oculoplastics
Dissociated vertical deviation (DVD)
Contact Information
Name: Aaron Issac
Phone: +44-7426048816
E-Mail: [email protected]
Website: https://pediatricophthalmology.ophthalmologyconferences.com/
https://www.vydya.com/wp-content/uploads/2021/11/2022-03-07-Pediatric-Ophthalmology-Congress-Spain.jpg
600
800
admin
https://www.vydya.com/wp-content/uploads/2017/05/vydya-logo-blog-340x156.png
admin
2021-11-10 15:38:40
2021-11-10 15:39:47
7th Global Pediatric Ophthalmology Congress