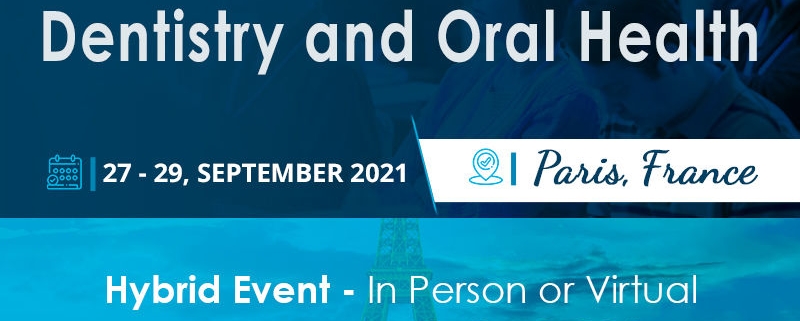 4th Edition of International Conference on Dentistry and Oral Health (ICDO 2021)
After successful completion of 3 Editions, here we are with "4th Edition of International Conference on Dentistry and Oral Health" (ICDO 2021) to be held during September 27-29, 2021 at Paris, France which is going to be conducted as a Hybrid Event and allows you to participate In Person or Virtually from your work/home place.
The main theme of Upcoming Dental conference is: "A journey to untangle the challenges of Dental Profession".
Dentistry and Oral health Conference will showcase the best in dental innovation and education from the front lines of technology. It is designed to serve the entire dental field and Improves patient outcomes through high quality continuing education opportunities, and information conveyed by expert keynote speakers.
Dental Conference 2021 aims to gather leading researchers, academic scientists and dental scholars to exchange and share their experiences and research results on all aspects of dental medicine and Dental Techniques. It additionally provides a premier knowledge base platform for researchers, dental practitioners and educators to present and discuss the foremost recent innovations, trends, and considerations as well as sensible challenges encountered and solutions adopted within the fields of Dentistry, Dental Techniques and Oral Health.
Join this Dentistry conference 2021 and earn CE credits.
Conference Sessions
• Dental Education and Research
• Public Health Dentistry
• Orofacial and Dentistry Cosmetics
• Oral Cancer Research
• Laser Dentistry
• Advanced Dental Research
• Dental Instruments and Dental Marketing
• Conservative Dentistry
• Dental Implants and Dentures
• Prosthodontics & Implantology
• Endodontics
• Forensic Dentistry
• Dental Caries
• Tooth Anatomy, Decay and Care
• Dental Biomaterials & Bioengineering
• Pediatric Dentistry and Gerodontology
• Clinical and Medical Case Reports
• Orthodontics & Dentofacial Orthopedics
• Periodontology and Implant Dentistry
• Dental Nursing and Dental Practice
• General Dentistry and Evidence Based Care
• Oral Surgery and Dental Anesthesiology
• Maxillofacial Pathology, Microbiology & Surgery
• Digital Dentistry, Robotics and Nanodentistry
• Molecular & Cell Biology: Oral Health Disorders
• Restorative Dentistry and Comprehensive Care
• Dentistry in Stem Cell Regeneration and Repair
• Oral Pathology, Radiology, Microbiology & Medicine
• Preventive, Community Dentistry & Oral Epidemiology
• Temporomandibular Joint Disorder (TMJ) and Temporomandibular Joint Dysfunction (TMD)
• Guidelines for Dental Professionals in Covid-19
• COVID-19: Dental & Oral care
Contact Information
Name: Kate Flores
Phone: +1 434 381 1007
E-Mail: [email protected]
Website: https://dental-conferences.magnusgroup.org/
https://www.vydya.com/wp-content/uploads/2021/03/2021-09-27-Dental-Conference-Paris.jpg
600
800
admin
https://www.vydya.com/wp-content/uploads/2017/05/vydya-logo-blog-340x156.png
admin
2021-03-25 12:34:22
2021-03-25 12:37:03
4th Edition of International Conference on Dentistry and Oral Health (ICDO 2021)