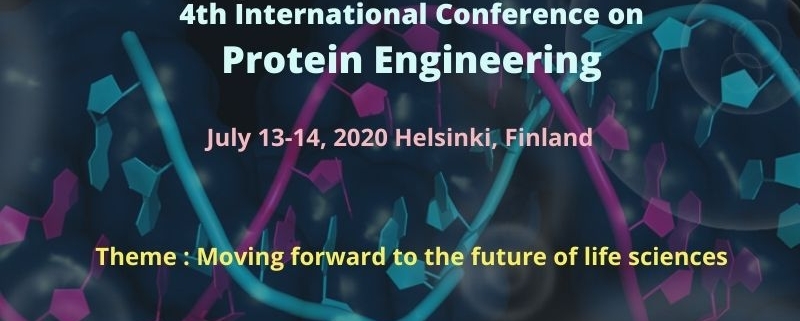 4th International Conference on Protein Engineering
4th International Conference on Protein Engineering is a platform with independent life science events and predominantly academic client base. The sessions included in this conference are Protein, Genetic, and Enzyme Engineering, Structure and Function of Proteins, Genomics and Structural Genomics, Protein Engineered Biomaterials, Proteomics in Plant and Animal, Pharmacogenomics and Pharmacoproteomics, Mass Spectrometry in Proteome Research, Transcriptome analysis and Gene Expression, Protein Biochemistry, Antibody Drug Therapy, Protein Therapeutics and Market Analysis, Molecular Modelling and Drug Designing, Bioinformatics and Computational Biology, Applications of Genetic and Protein Engineering, Machine Learning Applications in Bioinformatics and other techniques.
Eminent people like Doctors, Scientists, Protein and Genetic Research laboratory Heads, Researchers, Practitioners, Students going to attend this conference.
Conference Sessions
Protein Engineering
Genetic Engineering
Enzyme Engineering
Structure and Function of Proteins
Genomics & Structural Genomics
Protein Engineered Biomaterials
Proteomics in Plant & Animal
Pharmacogenomics & Pharmacoproteomics
Mass Spectrometry in Proteome Research
Transcriptome Analysis & Gene Expression
Protein Biochemistry
Antibody Drug Therapy
Protein Therapeutics & Market Analysis
Molecular Modelling and Drug Designing
Bioinformatics and Computational Biology
Applications of Genetics and Protein Engineering
Machine Learning Applications in Bioinformatics
https://www.vydya.com/wp-content/uploads/2020/03/2020-07-13-Protein-Engineering-Conference-Helsinki-p.jpg
600
800
admin
https://www.vydya.com/wp-content/uploads/2017/05/vydya-logo-blog-340x156.png
admin
2020-03-11 11:46:40
2020-03-11 11:46:57
4th International Conference on Protein Engineering