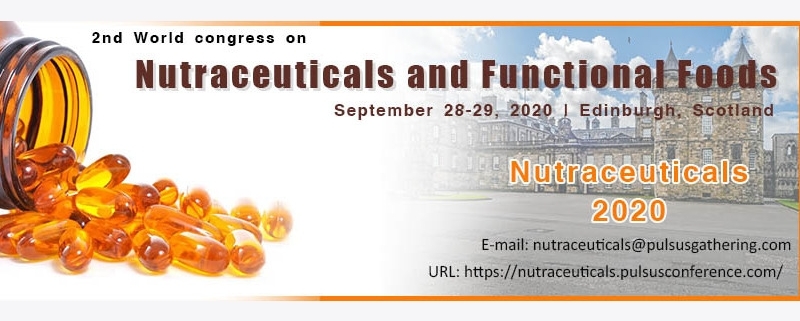 2nd World Congress on Advanced Nutraceuticals and Functional Foods
Nutraceuticals 2020 delighted to conduct an innovation program for Nutraceuticals and Pharmaceuticals researchers which will be "2nd World congress on Advanced Nutraceuticals and Functional Foods" with the successful edition of "Nutraceuticals 2019". The conference "Nutraceuticals 2020" has been scheduled on September 28-29, 2020 at Edinburgh, Scotland in the theme of "Modification of Lifestyle by Innovation in Nutraceuticals medicine".
"Nutraceuticals 2020" will be a handshake for innovators, researchers, manufacturers, scientists, CEO, Director, Principal Scientists, Marketers and students in the field on Nutraceuticals, Pharmaceuticals, Functional Foods, Nutrition, Dietitian, Food technology, Food science, medicine and healthcare professionals.
Conference Sessions
Nutraceutical
Nutrition and Health
Dietary Supplements and dietary fibres
Medical Foods
Functional foods
Pharmaceuticals Vs Nutraceuticals
Multivitamin Supplements
Herbal Medicine
Traditional Medicine
Bioactive Nutraceuticals
Nutricosmetics
Prebiotic and Probiotics
Role of Nutraceuticals in Health Care
Nutraceuticals in Cancer Therapy
Nutraceuticals for Cardiovascular health
Nutraceuticals in Weight Management
Restorative& Alternative Medicine
Recent Trends in Nutraceuticals Research
Marine Nutraceuticals
Role of Functional Foods
Nutraceuticals in Pediatric and Child health
Nutraceuticals in Gynaecology and maternal health
Nutraceuticals for Diabetes mellitus theraphy
Nutraceuticals Market-Growth Trends and research
Veterinary Nutraceuticals
https://www.vydya.com/wp-content/uploads/2020/02/2020-09-28-Nutraceuticals-Congress-Edinburgh.jpg
600
800
admin
https://www.vydya.com/wp-content/uploads/2017/05/vydya-logo-blog-340x156.png
admin
2020-02-04 22:35:55
2020-02-04 22:37:41
2nd World Congress on Advanced Nutraceuticals and Functional Foods