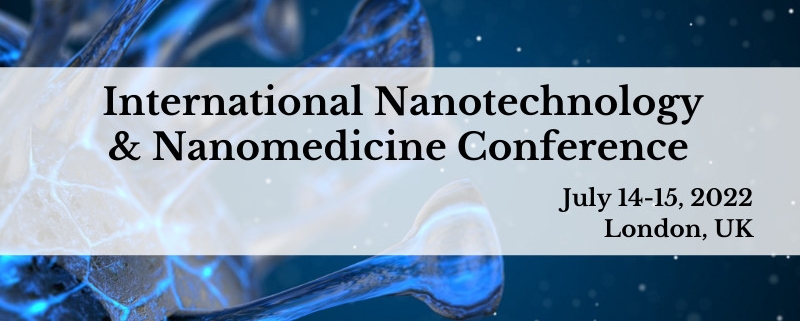 International Nanotechnology and Nanomedicine Conference
The International Nanotechnology and Nanomedicine Conference welcome you to London, UK during July 14-15, 2022 to share your research findings, encourage the exchange of knowledge and network with a broad audience in the nanomedicine and nanotechnology sector.
i-Nanotech 2022 is an annual meeting for scientists, practitioners and educators to exchange perspectives and address recent developments, trends, studies, issues and practical challenges and solutions in the broad field of nanotechnology and nanomedicine.
i-Nanotech 2022 is a leading forum for a wide range of nanotechnology practitioners representing, among others, the interdisciplinary fields of biology, materials science, physics, chemistry and biotechnology. The iNanotech Operating Committee welcomes abstracts on a wide range of cross-cutting subjects, including nanosensors, nanomedicines, Bionanomaterials, Pharmaceutical Nanotechnology, Nanomaterials in Food, Agriculture, rubber and Water Purification, Energy, Environment and Green Technology to be submitted. Nanomedicine-related sessions will foster discussions among the medicine community's interdisciplinary nanotechnology while fostering new and synergistic collaborations between academic and industrial scientists.
Join us and experience the booming industry by engaging in i-Nanotech 2022 and providing your career and business with new opportunities from around the world. We will be happy to host you in London.
For more information, please visit: www.inanotechnologyconference.com or mail us at [email protected]
WHY i-NANOTECH
• Researchers, Scientist and Nanotechnology experts
• Nano Science and Nanotechnology Investors
• Academia: Professors and Students
• Nanoscience and Nanotechnology Associations and Societies
• Policymakers and Influencers
• Business Professionals and Representatives
• Nanotech Companies
• Business Entrepreneurs
• Key Decision Makers & Officials
HIGHLIGHTS
• Bionanomaterials/Nanomaterial synthesis and characterization
• Nanomedicine
• Nanotechnology in Medical Diagnostics
• Pharmaceutical Nanotechnology
• Nanosensors, Nanotools and nanodevices
• Nanomaterials in Food, Agriculture, rubber and Water Purification
• Commercialization, Safety and Societal Issues of Nanotechnology
• Energy, Environment and Green Technology
WHY i-NANOTECH 2022
• Sharing Knowledge with the Industry
• Explore Future Business Opportunities
• Meet and collaborate with Pioneers
• Get the latest updates from experts to stay ahead
• Increase your knowledge base & Learn about new technology
• Reinvigorate your relationship with peers
• Network & get inspired by leaders
• Share your Products and Services with Professionals
Proposal Deadlines
Abstract Submissions Open 3rd January, 2022
Abstract Submission deadline 16th May, 2022
Registration Deadlines
Super Early Bird Registration 7th March, 2022
Early Bird Registration 16th May, 2022
Regular Registration 13th July, 2022
https://www.vydya.com/wp-content/uploads/2022/01/2022-07-14-Nanomedicine-Conference-London.jpg
600
800
admin
https://www.vydya.com/wp-content/uploads/2017/05/vydya-logo-blog-340x156.png
admin
2022-01-20 15:45:30
2022-01-20 15:45:52
International Nanotechnology and Nanomedicine Conference