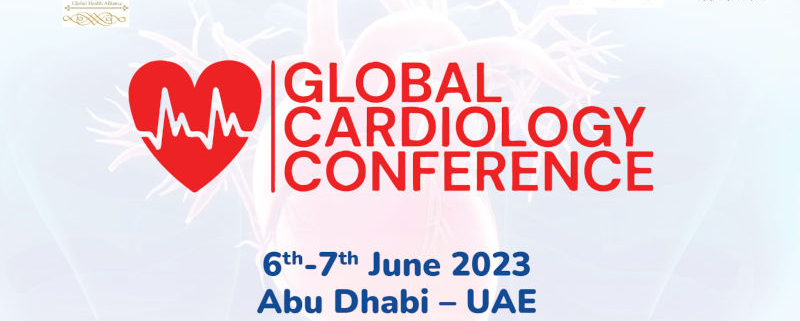 Global Cardiology Conference
Global Cardiology Conference 2023 will cover a wide range of topics related to cardiology and heart health, including the latest advances in diagnosis, treatment, and management of various cardiovascular diseases, as well as prevention strategies and lifestyle interventions to promote heart health. Our International Faculty will provide insights into the latest guidelines and research by the American Heart Association and European Society of Cardiology and a quick hands-on, basic life support course on Cardiopulmonary resuscitation [CPR].
In addition to the academic program, the conference will also provide ample opportunities for networking, collaboration, and socializing. Participants will have the chance to connect with colleagues and peers from around the world, forge new partnerships, have private 1-1 consultation opportunities, and share experiences and perspectives in a supportive and collegial environment. We invite you to join us for this exciting and informative event, and to be part of the global effort to improve heart health and reduce the burden of cardiovascular disease. Together, we can make a difference and pave the way for a healthier future for all.
Key Topic for the Middle East Edition:
Coronary Artery Disease, The Present & Future
Heart Failure: A Global Challenge Latest Guidelines from ESC & AHA
Diabetes: One of the biggest challenges in heart disease, newer drugs to counter it
Women's Heart Health: Urgent Intervention Needed
Lipid Management: All you need to know in 2023.
Sudden Cardiac Death in young: Detection & Management
Cardiometabolic Medicine: The emerging field & the latest guidelines
Healthy Heart: Do's & Don't; How to keep going.
Vascular Complications in High-Risk Cardio-Metabolic Patients
Updates in Cardio-Oncology
International Faculty, who have already confirmed their participation include:
Dr. Khaldoon Al Humood – Director of the Advanced Heart failure and Transplantation Program | Ministry of Health, Kuwait
Dr. Syed Raza, MRCP, CCT, FRCP – Head of Department, Cardiology | Awali Hospital, Bahrain
Prof. Derek Connolly, PhD, FRCP – Professor of Cardiology, Consultant Cardiologist | Sandwell & City Hospital, Birmingham, UK
Dr. Rajay Narain, MRCP – Hon. Consultant Cardiologist | St George's University Hospital, London I Director | Global Heath Alliance, UK
Dr. Mimi Chen, FRCP – Consultant Diabetologist | St George's University Hospital London, UK
Dr. Fahmi Farah, Md – Consultant Cardiologist, Assistant Professor | University of Texas, USA
Dr. Mahesh Pai, FRCS – Consultant Vascular Surgeon | North Bristol NHS Trust, UK
Dr. Arjun Ghosh, MBBS, MSc, PhD, FHEA, FACC, FESC, FRCP, FICOS – Consultant Cardiologist | The London Clinic & The Wellington Hospital Cardiac Unit, London, UK
Dr. Jassim Zaheen Shah – Consultant Cardiologist, Cardio-Oncologist and Heart Failure Specialist | Heart Hospital, Hamad Medical Corporation, Doha, Qatar
Dr. Heidar Arjomand, MD, FACC, FSCAI – Interventional Cardiologist, Medical Director | Heart & Vascular Center, American Hospital, Dubai, UAE
Dr. Lubna Noor, MCPS, FCPS, FACC – Cardiologist | Imperial College of London Diabetes Centre, Abu Dhabi, UAE
Dr. Noorullah Mohammed, MD, FRCP, MBA, CPHQ – Interventional Cardiologist | Burjeel Hospital, Abu Dhabi, UAE
For more information about this event, kindly contact us to this email and we will get in touch. We look forward to welcoming you to Abu Dhabi for the Global Cardiology Conference 2023.
#GCCCardio #Globalheartsummit
Contact Information
Name: Mohor Mukherjee
Phone: +44 1214683187
E-Mail: [email protected]
Website: https://www.globalcardiologyconference.com
https://www.vydya.com/wp-content/uploads/2023/04/2023-07-06-Cardiology-Conference-Abu-Dhabi-UAE-p.jpg
600
800
admin
https://www.vydya.com/wp-content/uploads/2017/05/vydya-logo-blog-340x156.png
admin
2023-04-26 11:13:59
2023-04-27 16:45:08
Global Cardiology Conference