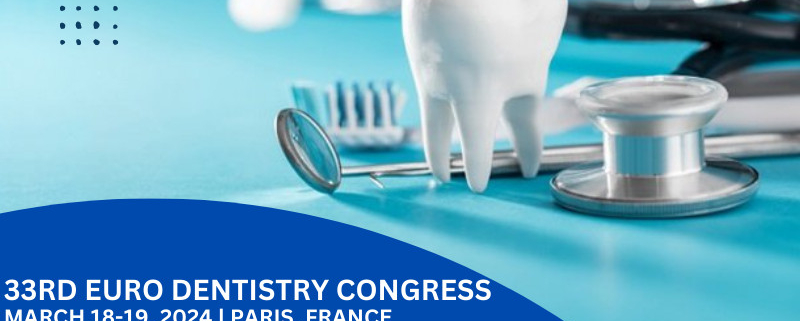 33rd Euro Dentistry Congress
The 33rd Euro Dentistry Congress is set to take place on March 18-19, 2024, in the captivating city of Paris, France. This highly anticipated event will bring together dental professionals, researchers, academics, and industry leaders from around the globe to exchange knowledge, share insights, and explore the latest advancements in the field of dentistry.
Hosted in one of the world's most iconic cities, the congress offers an exceptional opportunity for attendees to immerse themselves in a rich scientific program, featuring renowned keynote speakers, interactive workshops, panel discussions, and poster presentations. Participants will have the chance to delve into a wide range of topics, including preventive dentistry, oral health care, cosmetic dentistry, dental implants, orthodontics, and much more.
The 33rd Euro Dentistry Congress aims to foster collaboration and provide a platform for networking among dental professionals, researchers, and industry experts. Attendees will have the chance to connect with peers, exchange ideas, and establish lasting professional relationships that can shape the future of dentistry.
In addition to the scientific program, the congress will also showcase the latest dental products, technologies, and innovations through an extensive exhibition. Industry exhibitors will present cutting-edge solutions and advancements that can enhance dental practice and patient care.
Paris, with its rich history, exquisite architecture, and culinary delights, provides a perfect backdrop for this prestigious event. Participants will have the opportunity to explore the city's iconic landmarks, indulge in its vibrant culture, and experience the unique blend of history and modernity.
Don't miss the chance to be part of the 33rd Euro Dentistry Congress in Paris, where the brightest minds in dentistry will converge to shape the future of oral health.
Conference Scientific Sessions
Dental Biomaterials
Digital Dentistry
Implant Dentistry
Minimally Invasive Dentistry
Oral Health and Systemic Connections
Oral Cancer
Regenerative Dentistry
Oral Microbiome
Pediatric Dentistry
Oral Health Disparities
Artificial Intelligence in Dentistry
Precision Dentistry
Dental Stem Cell Therapy
Dental Implant Surfaces and Osseointegration
3D Printing in Dentistry
Dental Education and Technology
Dental Public Health
Dental Industry Trends and Market Analysis
https://www.vydya.com/wp-content/uploads/2023/07/2024-03-18-Dentistry-Conference-Parisp.jpg
600
800
admin
https://www.vydya.com/wp-content/uploads/2017/05/vydya-logo-blog-340x156.png
admin
2023-07-21 11:25:46
2023-07-21 11:26:14
33rd Euro Dentistry Congress