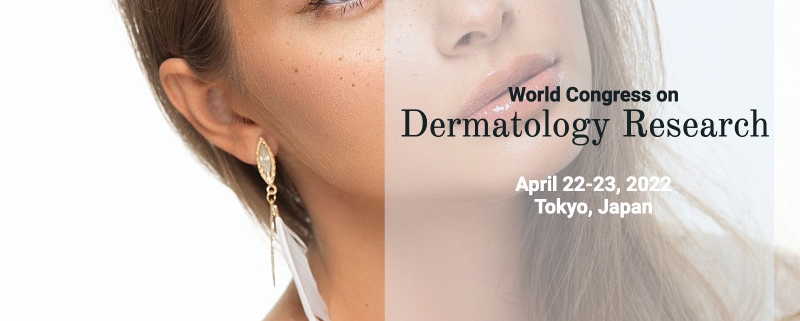 World Congress on Dermatology Research
Dermatology Congress 2022
We are delighted to extend an invitation to all of you to our conference World Congress on Dermatology Research, a Hybrid event which will take place in Tokyo, Japan and/or Live Webinar on April 22-23, 2022. The conference features around the theme "Advanced Clinical and Experimental Dermatology Research Discussions". The major focus of this conference is to outreach the advancement within the field of Dermatology by a worldwide gathering and meeting of individuals from various diversities to share their knowledge.
Dermatology Congress 2022 seeks to foster, conduct, and promote interdisciplinary fields of Dermatology research. Young and brilliant students, business delegates, and young research groups from all over the world will attend this meeting to encourage high-quality research with real-world applications in an environment of true international collaboration between scientists and engineers. This is a global meeting where researchers, scientists, developers from this field including various departments present their research and share ideas with existing senior scientists in an interactive environment. They will also meet colleagues from all over the world to expand their network, strengthen management and leadership skills, and improve their analytical and research abilities. Workshops, symposia, oral lectures, poster sessions, and special discussions on a broad variety of subjects in Dermatology will be part of the program.
The distinctive features of the Dermatology conference include Keynote Speakers and Plenary Talks by eminent personalities from around the world in addition to contributed papers both oral and poster presentations.
Conference Sessions
Acne and Treatment
Ageing Science
Benign and Malignant disorders of skin
Clinical and Experimental Dermatology
Cosmetic Dermatology
Dermatopathology
Effects of steroids in Dermatology
Hair Transplantation and Laser Hair removal
Immunodermatology
Pediatric Dermatology
Psoriasis and Leprosy Disease
Side Effects of Cosmetics
Skin cancer and Biopsy
Skin Infections: Bacterial, Fungal, Viral/yeast
Skin Rejuvenation
Stem Cells Therapy
Surgeries: Cryo, Plastic, Mohs, Vitiligo
Therapies: Carboxy, Laser, Photodynamic, Radiation
Trichology
Vitamin Disorders of Skin
Wound healing
Dermatologic aspects of the COVID-19 infection
Effects of vaccinations on the skin
Contact Information
Name: Bethany Davies
Phone: Whatsapp: +44 12237-90120
E-Mail: [email protected]
Website: https://dermatology.cmesociety.com/
https://www.vydya.com/wp-content/uploads/2022/01/2022-04-22-Dermatology-Research-Congress-Japan-s.jpg
600
800
admin
https://www.vydya.com/wp-content/uploads/2017/05/vydya-logo-blog-340x156.png
admin
2022-01-27 11:20:29
2022-01-27 11:21:32
World Congress on Dermatology Research