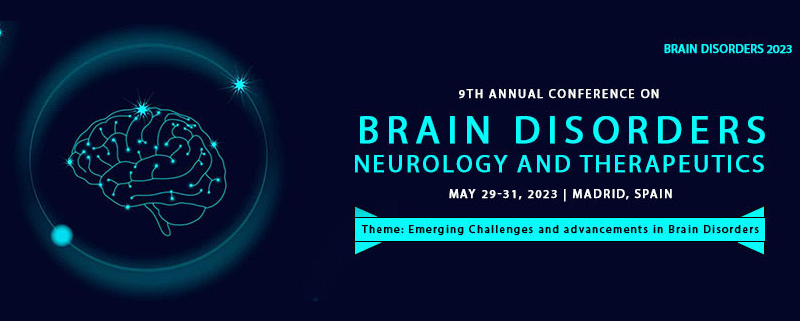 9th Annual Conference on Brain Disorders, Neurology and Therapeutics
Brain Disorders 2023 is a Massive Global Annual Event, which holds the series 9th Annual Conference on Brain Disorders, Neurology and Therapeutics on May 29-31, 2023 in Madrid, Spain. Here, Brain Disorders 2023 plans to organize this conference with the theme of Emerging Challenges and advancements in Brain Disorders.
Brain Disorders 2023 is a unique forum to bring together worldwide distinguished academics in the field of Neuroscience and Neurology, Brain researchers, public health professionals, scientists, academic scientists, industry researchers, scholars to exchange state-of-the-art research and technologies.
The aim of this conference is to stimulate new ideas for treatment that will be beneficial across the spectrum of Brain Disorders and engage with phenomenal scholars across the world.
The sessions of Brain Disorders Conference set a highly advanced, innovative and valuable contribution to our medical professions at all who work in contact with brain diseases and Neurological Disorders on a daily basis
The research provides market share information for neurology according to several illness indications as Parkinson's disease, Alzheimer's disease, psychotic disorders, epilepsy disorders, autism disorders, and brain tumor diseases are the different categories of neurological illnesses on the market. Regional analyses and therapies are covered for each illness segment.
Brain Disorders 2023 invites all professionals to share and showcase their eminence research work and insightful experience on this great platform.
Conference Scientific Sessions
Neurological Disorders & Stroke
Brain Injury
Amyloid and Tau Protein
Demyelinating disease
Spine Disorders
Rehabilitation post-trauma
Pediatric Neurology
Cognitive Neuropsychiatry
Neurodegeneration & Aging Disorders
Brain Tumors
Down syndrome
Epilepsy
Multiple sclerosis
Alzheimers disease
Neuro-oncology
Neuropsychology
Behavioral Sciences
Mental disorder / Mental illness
Anxiety disorders & Depression
Inflammatory Neurologic Diseases
Addiction & Therapeutics
Ethics in Neurology and Legal Issues
Animal models of Neurobehavioral Disorders
https://www.vydya.com/wp-content/uploads/2022/11/2023-05-29-Brain-Disorders-Conference-Spain.jpg
600
800
admin
https://www.vydya.com/wp-content/uploads/2017/05/vydya-logo-blog-340x156.png
admin
2022-11-30 10:43:04
2022-11-30 10:43:32
9th Annual Conference on Brain Disorders, Neurology and Therapeutics