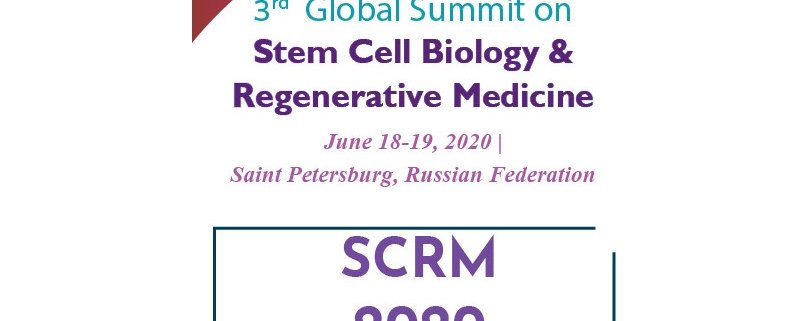 Date/Time
Date(s) - Jun 18, 2020 - Jun 19, 2020
9:00 AM - 6:00 PM
Contact
Rohini
Phone: +91 40-68176307
E-Mail: [email protected]
Website: https://scientificfederation.com/stemcell-2020/index.php
Location
Saint Petersburg, Russian
Categories
We invite your to "3rd edition of Stem Cell Biology & Regenerative Medicine Conference" to foster the progress in the field by contributing with your expertise to what promises to be a very comprehensive and exciting meeting, and to enjoy the immense unique artistic heritage and wonderful landscape of Germany.
3rd Global Summit on Stem Cell Biology & Regenerative Medicine (SCRM-2020), which will be held during June 18-19, 2020, working with the theme of "Frontiers in Stem Cell and Scaffolds in Regenerative Medicine" is event attracting global participant's intent on sharing, exchanging and exploring new avenues of Stem Cell, Tissue Engineering, Oncology and related research and latest developments.
The event will have 5-6 world level (Highly cited class) plenary speakers, established Keynote speakers, active Invited speakers and fresh contributed speakers. In addition, variety of poster presentations along with workshops and special sessions would be interested in audience.
Conference Sessions
Regenerative Medicine
Tissue Engineering
Stem cell bank leading in storage technology
Hematology
Immunology
Regenerative medicine: Past, present and future
Stem Cell Apoptosis and Signal Transduction
Molecular biology
Biomatierials
Cell Biology
Stem Cells
Advances in Stem Cells and their Niches
Cancer Stem Cells
Stem Cells in Diseases
Stem Cells in Regenerative Therapies
Repair and Regeneration
Artificial Organ Transplantation
Stem Cell Therapy
Stem Cell Genetics
Hematopoietic Stem Cells
Stem Cell Treatments
Stem Cells in Disease Modeling and Drug Development
Stem Cell Transplantation
Scaffolds in Regenerative Medicine
Stem Cell Culture and Bio-process
Computational Stem Cell Biology
Technologies in Stem Cell Research
Exploring New Trends in Stem Cell Research
Translational Medicine
Models Of Regeneration
Scaffolds And Bio Materials For Tissue Engineering
Tissue Repair And Regeneration
Cell And Organ Regeneration
Cell Engineering
Cellular And Gene Therapies
Bio Banking
Bio-Imaging
Plant Tissue Culture
Bone Tissue Engineering
Stem cell apoptosis and signal transducer
Stem cell in drug development
Retinal pigment epithelium (RPE)
Pancreatic beta cells
Mesenchymal stem cells (MSCs)
Induced pluripotent stem cells (iPS cells)
Embryonic stem cells
Clinical translation
Drug discovery
In vitro
Somatic stem cells
Bone marrow stromal cells
Clinical trial
Drug screening
Multipotent stem cells
Pancreatic beta cells
RNA
Reprogramming
Progenitor cells
Preclinical research
Stem cell tourism
https://www.vydya.com/wp-content/uploads/2019/07/2020-06-18-Regenerative-Medicine-Summit-Saint-Peterburg.jpg
603
800
admin
https://www.vydya.com/wp-content/uploads/2017/05/vydya-logo-blog-340x156.png
admin
2019-07-12 05:45:05
2019-07-15 09:44:41
3rd Global Summit On Stem Cell Biology & Regenerative Medicine