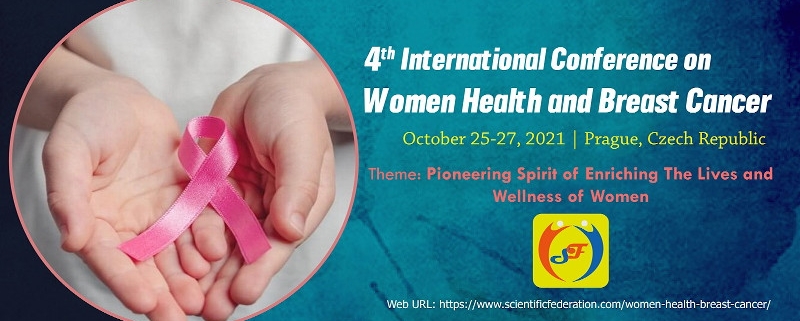 4th International Conference On Women Health And Breast Cancer
On behalf of the Organizing and Program Committees we take great pleasure in welcoming academic scientists, researchers, research scholars, students and experts of application fields to Prague, Czech Republic for the 4th edition of Women Health Conference to foster the progress in the field by contributing with your expertise to what promises to be a very comprehensive and exciting meeting, and to enjoy the immense unique artistic heritage and wonderful landscape of Czech Republic.
The 4th International Conference on Women Health and Breast Cancer (Women Health-2021), scheduled for October 27-29, 2021 in Prague, Czech Republic, is now a well-entrenched conference that draws the attention of participants from around the world to share and explore new perspectives on women health and related research, latest developments. Plenary speakers, Keynote speakers, Invited speakers and fresh contributed speakers, as well as various poster presentations, workshops, exhibitions and special sessions will be of interest to the audience.
Conference Sessions
Novel Therapies of Breast Cancer
Breast Cancer Surgery Choices
Oncology Rehabilitation for Breast Cancer
Breast Cancer Rehabilitation/Survivorship
Breast Cancer-Clinical Trails
Metastatic Breast Cancer
Chemotherapy for Breast Cancer
Gynecology and Obstetrics
Ovarian Cancer
Cervical Cancer
Endometrial Cancer
Lung Cancer in Women
Reproductive Health
Contraception and Pre-Conception Counseling
Heart Disease in Women
Nutritional Supplements and Vitamin D
Stress Reduction and Mind/Body Connection through Yoga
Immunization in Women
Women Diabetes
Assisted Reproductive Technology (ART)
Alzheimer's Disease and Dementia
Life Changing Realities of Teen Pregnancy
The Cycle of Domestic Abuse
Female Genital Mutilation
Women Health Promotion
Breast Cancer Stages
Breast Cancer Risk Factors
Breast Reconstruction
Breast Cancer Awareness
Breast Cancer: Challenges, Breakthroughs
Drug Effects on Pregnancy
Women Oncology
Women Health Nursing
Autoimmune Diseases
Prenatal Care and Perinatal Depression
Genetics of Breast Cancer, Therapeutics & New Methods
https://www.vydya.com/wp-content/uploads/2020/10/2021-10-25-Women-Health-Conference-Prague.jpg
600
800
admin
https://www.vydya.com/wp-content/uploads/2017/05/vydya-logo-blog-340x156.png
admin
2020-10-27 12:57:57
2020-10-27 13:01:01
4th International Conference On Women Health And Breast Cancer