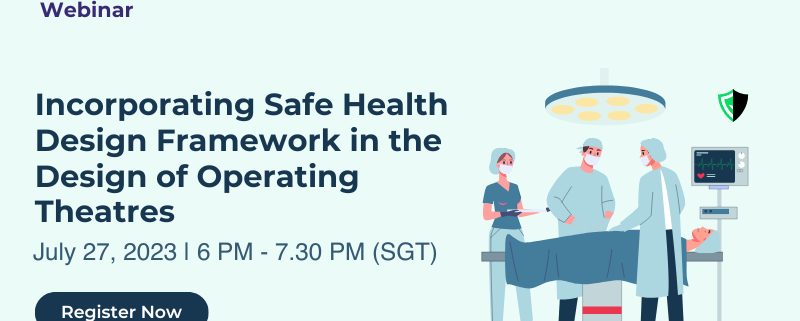 Incorporating Safe Health Design Framework in The Design of Operating Theatres
Every second counts in the operating room (OR). As ORs are seeing increasingly more complex procedures, higher volumes and case mixes; new OR builds or OR renovations may be necessary to meet the demand and improved delivery of patient care.
In a study by the American Society of Anesthesiologists (2013) aimed at improving patient care through human-centered operating room design, the physical layout of the ORs was determined to be the highest contributing factor that led to disruptions of the perioperative workflow. It is therefore crucial for the ORs to incorporate design considerations and approaches that will optimize the dynamics in the OR workflow.
Identifying important design considerations in the planning phase of the ORs, such as elements of the room design to:
Optimise space utilisation of the various work areas; e.g. patient transfer, anesthesia work area, sterile field and circulation pathway
Optimise perioperative workflow, e.g. considerations of specialty ORs such as hybrid ORs, robotic ORs, or spine ORs
Flex to various clinical specialties, e.g. by employing a universal OR room design;
as well as strategies to engage key stakeholders in the OR room design process to reduce costly design errors – would all have profound impact in enhancing the workflow efficiency, improved patient outcomes and safety, and safer OR environment for both surgical team and patients.
However, there are several factors hospital leaders need to consider before embarking on redesign of OT. How do we ensure safety is well incorporated into all aspects of the design? Can renovation time be minimised? What is the cost associated, including on lost operating time, and how best should ROI be calculated to justify such projects? Is there an ideal "universal war room design" that is applicable for different types of surgeries? What are some of the equipment purchase considerations that can help optimise the room design?
Register at: https://us06web.zoom.us/webinar/register/7116714344850/WN_0yC3gp_wTcacmMTfb5F9MQ
Contact Information
Name: Eu Yan Jun
Phone: +65 6990 7336
E-Mail: [email protected]
Website: https://www.hospitalmanagementasia.com/events/incorporating-safe-health-design-framework-in-the-design-of-operating-theatres/
https://www.vydya.com/wp-content/uploads/2023/01/2023-07-27-Design-of-Operating-Theatres-p.png
600
800
admin
https://www.vydya.com/wp-content/uploads/2017/05/vydya-logo-blog-340x156.png
admin
2023-01-17 12:16:28
2023-02-09 11:09:40
Incorporating Safe Health Design Framework in The Design of Operating Theatres