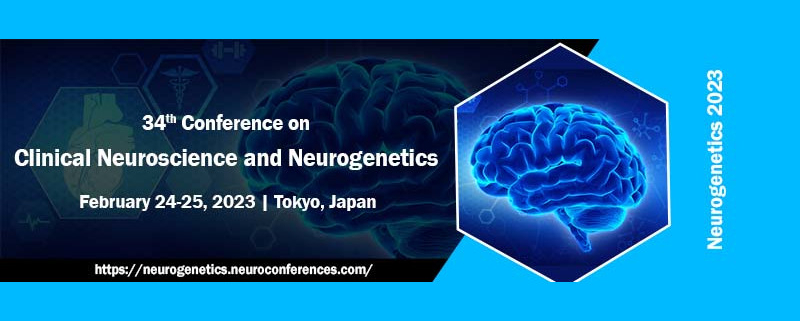 34th Conference on Clinical Neuroscience and Neurogenetics
We are deligted to invite to the 34th Conference on Clinical Neuroscience and Neurogenetics to be held during February 24-25, 2023 in Tokyo, Japan.
Our conference includes a well-proportioned cast of speakers, covering both generous and precise topics of concernment. Our conference intents to provide neurology physicians, specialists, nurses, technologist, neuroscientists, professors, students and anyone professionally involved in Neurogenetics and Neuroscience with an opportunity to learn about the multiplicity of the Neurogenetics, discuss interventional procedures, look at sophisticated Neurogenetic practices and their efficacy and efficiency in the treatment of various Neurodegenerative cases, and comprehend practical constraints in improving healthcare.
The Neurogenetics 2023 will be organized encompassing the theme "Mobilizing Neurons to Rehabilitate". Neurogenetics 2023 is comprehended of 16 tracks designed to offer widespread sessions that direct current issues in neurogenetic research affairs.
Conference Scientific Sessions
Genetics & Neurogenetics
Neurodegeneration
Neuroimmunology & Neuroinfection
Diagnostic Tools and Imaging Technique
Neurological Rehabilitation & Genetic Counseling
Alzheimers and Dementia
Neuropharmacology
Pediatric Neurology
Neuro-ophthalmology
Neuro-Oncology & Neurology
Neuro Pathology
Neuro Cardiology & Strokes
Neuro Chemistry
Nursing and Neuroscience
Ataxia
Neurogenetic Exploration
Psychiatry and Psychology
Epilepsy
Evaluation, Treatment & Management
Contact Information
Name: Elena Williams
Phone: WhatsApp Number: +1 307-215-1648
E-Mail: [email protected]
Website: https://neurogenetics.neuroconferences.com/
https://www.vydya.com/wp-content/uploads/2022/07/2023-02-24-Neuroscience-Conference-Tokyo.jpg
600
800
admin
https://www.vydya.com/wp-content/uploads/2017/05/vydya-logo-blog-340x156.png
admin
2022-07-01 17:31:32
2022-07-01 17:31:46
34th Conference on Clinical Neuroscience and Neurogenetics