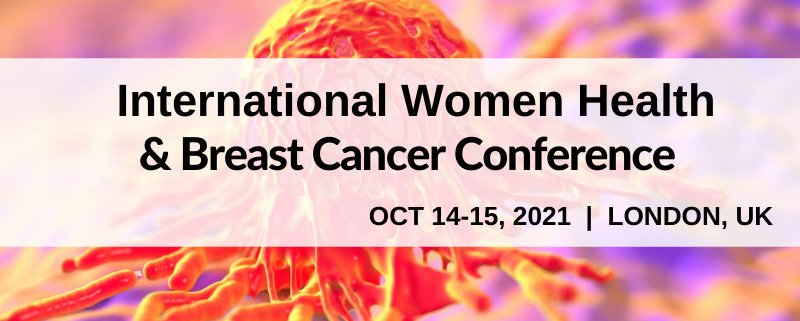 2nd International Women Health and Breast Cancer Conference
Following the success of the International Women Health and Breast Cancer Conference (i-Women Health, 2019), we set out to continue the series and we are pleased to welcome you to the second edition i.e. 2nd International Women Health and Breast Cancer Conference, 2021 in London, UK on October 14-15, 2021.
We invite you to share your research results, encourage information sharing, and network with a broad audience in the field of women's health to share the most recent advancements and research that will help women patients achieve the best possible outcomes.
i-Women Health 2021 is a premier interdisciplinary forum for scholars, clinicians, and educators to present and address the most current developments, patterns, concerns, practical challenges, and solutions for women of all ages. Nearly every permutation of information, creativity, technology, and networking is reflected at the i-Women Health Conference. Our goal is to create an international forum for academicians, clinicians, health and business professionals who work in the wide field of women's health to share the most up-to-date studies and advancements.
i-Women Health's focus includes the dissemination of translational research and evidence-based practices for disease prevention, diagnosis, and treatment for women across the lifespan. This program provides three days of robust discussions in the field of breast cancer, infertility, IVF, menopause, pregnancy, PCOS, Maternal health, reproductive health, endometriosis, ovarian cancer, midwifery, and more.
In the Women and Health Care sector, i-Women Health 2021 provides unrivaled business opportunities and access to new markets. Be the first to hear about new and often unreleased knowledge and explore a field that interests you. We assure you that when you leave London, you will be able to use newly acquired knowledge right away at your bench.
Participate in i-Women Health 2021 to experience the booming industry and introduce your career and business to new opportunities from around the world.
For more information, please visit: www.iwomenhealthconference.com or mail us at [email protected]
Our team will be happy to assist you.
Conference Sessions
• Recent Research and Advancement
• Breast Cancer
• Pregnancy and Pre/Post-natal Care
• Infertility and ART
• Mensuration and Menopause
• Reproduction
• Hormones Replacement Therapy
• Endometriosis
• Women's Health Policy and Issues
Who Attends
• Gynecologists-Obstetrician
• Paediatricians and Oncologist
• Biotechnology and Clinical Research Organization
• Healthcare Professionals
• Researchers, Scientists
• Policymakers, Influencers
• Software for Health industry & management
• Key Decision Makers, Governmen Heads & Officials
https://www.vydya.com/wp-content/uploads/2021/04/2021-10-14-i-women-health-breast-cancer-conference-London.jpg
600
800
admin
https://www.vydya.com/wp-content/uploads/2017/05/vydya-logo-blog-340x156.png
admin
2021-04-19 13:50:30
2021-04-19 13:53:36
2nd International Women Health and Breast Cancer Conference