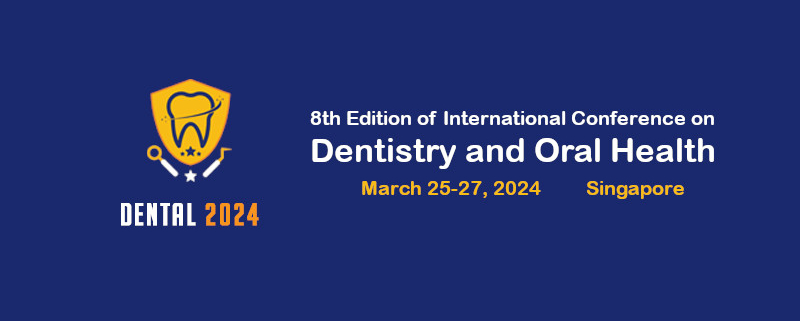 8th Edition of International Conference on Dentistry and Oral Health
Your attendance at the 8th Edition of the International Conference on Dentistry and Oral Health (CE Accredited) is cordially extended. Dental 2024 is a hybrid conference that will be held in Singapore and virtually from March 25–27, 2024, offering a special chance for dental professionals from around the world to connect and exchange knowledge and expertise. Dentistry 2024's theme is "Blending Today's Lifestyle with Dental Trends for Vibrant Smiles." This Dental Conference will feature prominent speakers who will discuss a range of subjects pertaining to dental health and the most recent dentistry trends.
The fact that Dental Conferences is a CE-accredited dental conference is one of its distinctive features. While learning from subject-matter specialists, attendees will have the chance to accrue CEUs. Dental practitioners have a great chance to improve their knowledge in the field and keep up with the most recent trends. Participants will have the ability to interact with peers, learn about the newest innovations, and participate in debates at this dentistry conference. In conclusion, Dentistry Conference will give guests a thorough review of current dental trends and how to incorporate them into modern lifestyles to obtain vibrant smiles. Join the global scientific discussion on dentistry and oral health by registering for this intriguing event right away.
Conference Scientific Sessions
1.Dental Education and Research
2.Public Health Dentistry
3.Orofacial and Dentistry Cosmetics
4.Oral Cancer Research
5.Laser Dentistry
6.Advanced Dental Research
7.Dental Instruments and Dental Marketing
8.Conservative Dentistry
9.Dental Implants and Dentures
10.Prosthodontics & Implantology
11.Endodontics
12.Forensic Dentistry
13.Dental Caries
14.Tooth anatomy, decay and care
15.Dental Biomaterials & Bioengineering
16.Pediatric Dentistry and Gerodontology
17.Clinical and Medical Case Reports
18.Orthodontics & Dentofacial Orthopedics
19.Periodontology and Implant Dentistry
20.Dental Nursing and Dental Practice
21.General Dentistry and Evidence Based Care
22.Oral Surgery and Dental Anesthesiology
23.Maxillofacial Pathology, Microbiology & Surgery
24.Digital Dentistry, Robotics and Nanodentistry
25.Molecular & Cell Biology: Oral Health Disorders
26.Restorative Dentistry and Comprehensive Care
27.Dentistry in Stem cell Regeneration and Repair
28.Oral Pathology, Radiology, microbiology & Medicine
29.Preventive, Community Dentistry & Oral Epidemiology
30.Temporomandibular joint disorder (TMJ) and Temporomandibular joint dysfunction (TMD): Functions and Disorders
31.Guidelines for Dental Professionals in Covid-19
32.COVID-19: Dental & Oral care
33.Teledentistry and the future of remote diagnosis and treatment
Contact Information
Name: Regina Brown
Phone: WhatsApp: +1 (434) 264 7183
E-Mail: [email protected]
Website: https://magnusconferences.com/dental/
https://www.vydya.com/wp-content/uploads/2023/10/2024-03-25-Dentistry-Conference-Singapore.jpg
600
800
admin
https://www.vydya.com/wp-content/uploads/2017/05/vydya-logo-blog-340x156.png
admin
2023-10-24 11:10:21
2023-10-24 11:10:40
8th Edition of International Conference on Dentistry and Oral Health