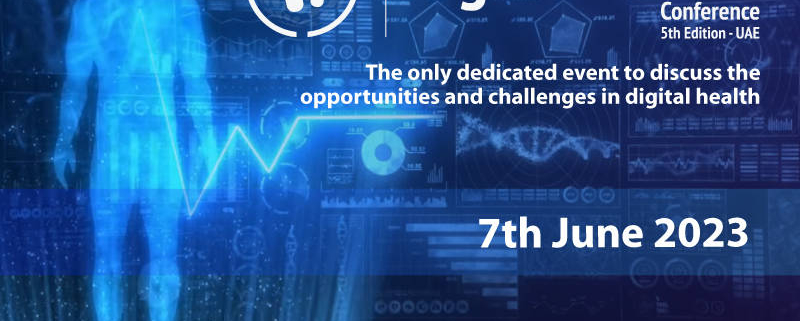 5th Digital Health Conference – UAE
Covid 19, has been a major accelerator for the adoption of Digital Health in Healthcare. The Middle East was embracing digital transformation trends in the healthcare sector even before the Covid-19 pandemic hit. However, the Pandemic pushed healthcare leaders to accelerate the development of digital healthcare to facilitate the improvement of patient care through digitalisation.
The UAE's health regulators are increasingly considering the adoption of new, smart technologies to modernise its healthcare ecosystem. As part of the growth and increased sophistication of the U.A.E.'s healthcare sector, the U.A.E. has implemented new, best-in-class solutions revolving, for instance, around telemedicine, digitization of health records, connected medical devices, and 3D printing. The Ministry of Health and Prevention (MoHAP) has initiated several innovative healthcare projects to enhance futuristic health services and cement digital health practices.
Cogent Solutions Event Management's ''5th Digital Health Conference – UAE Edition'' aims to bring together thought leaders of healthcare ecosystem from both public and private healthcare entities, to emphasise on the vital role of digital health in the fight, and adopting Digital Transformation as a lifestyle to accomplish a promising future vision ; namely, delivering best-quality integrated and comprehensive healthcare system.
Some of the Conference Sessions
Digital Health Efforts in UAE
Invisalign Digital Treatment Planning to the Cloud, making its robust ClinCheck treatment
Building Healthcare Systems to make Healthcare convenient & hassle free for all
A unified strategy for managing digital identities
Innovating the future of healthcare with AI
Smart Technologies transforming Healthcare
Cloud Adoption a game-changer in Healthcare
Securing Hospital Systems to safeguard critical patient data
Sustainable future in Healthcare
Humanizing patient care through Technology
The growing role of AI & Data Analytics in Healthcare
Press Release
Digital Health Conference in UAE to Bring Together Top Leaders and Experts in the Field
The dynamics between healthcare providers and seekers is rapidly evolving due to the influence of technology. Patients today are equipped with digital tools that empower them to take charge of their own health. The COVID-19 pandemic has accelerated the adoption of technologies such as digital growth, virtualization of healthcare, and AI, which are now essential components of the healthcare system.
The UAE Government has allocated DHS 4.9 billion to community & healthcare protection in the federal budget for 2022-2026. The current average healthcare spending per capita is $1,200, ranking the country in the top 20 worldwide. It is predicted that healthcare expenditures in the UAE will reach $21.3 billion by 2026, comprising 4.6% of the country's GDP.
To facilitate its ambitious vision of worldclass healthcare services in UAE, CS Event Management has announced the 5th edition of its Digital Health Conference, which is set to take place on June 7th, 2023, at Dusit Dubai. The conference aims to discuss opportunities and challenges in the digital health sector, highlighting digital advancements made by the country and its future plans of delivering quality healthcare products and services that are compatible with international standards.
Leaders from public and Private healthcare organisations, The Ministry of Health & Prevention (MOHAP) and other eminent speakers from the global healthcare ecosystem will meet to strategize the future vision of UAE & the MENA region. Renowned personalities such as Her Excellency Mrs Mubaraka Ibrahim (CIO) Emirates Health Services, Ms. Salwa Jalal Al Blushi, Head of Digital Standards & operations -Ministry of Health & Prevention UAE and Dr. Ibtesam Al Bastaki, Director of Investment & Partnership -Dubai Health Authority would be leading the discussions on the efforts & opportunities in the digital health industry, convenient and hassle free healthcare for all, Public Private Partnerships (PPP's), Smart Technologies in healthcare innovations and Cloud adoption to name a few.
The event will give a boost to the quality of healthcare offered as well as provide opportunities to discuss how service providers can leverage healthcare innovation, smart technologies and digital healthcare products and solutions to boost competitiveness in the healthcare sector.
Post pandemic the Ministry of Health & Prevention has invested heavily in the digital health sector to enable citizens of the country have access to worldclass health care. "We are very proud of UAE's vision to be a global leader in the healthcare sector" says a government spokesperson. The conference will provide an ideal platform for participants to network with peers, forge new partnerships, and share knowledge and best practices. Participants will have the chance to connect with like-minded individuals who share a passion for leveraging technology to improve patient outcomes and enhance the delivery of healthcare services.
The conference, hosted by CS Event Management looks forward to welcome participants across UAE and creating an environment that fosters innovation & collaboration. The event will undoubtedly be a gateway to the vision of making UAE one of the most advanced countries in the healthcare universe.
Contact Information
Name: Soumya Menon
Phone: [email protected]
E-Mail: +971 565155469
Website: https://digitalhealthmena.com/5th-digital-health-conference/
https://www.vydya.com/wp-content/uploads/2023/05/2023-06-07-Digital-Health-Conference-Dubai-p.jpg
600
800
admin
https://www.vydya.com/wp-content/uploads/2017/05/vydya-logo-blog-340x156.png
admin
2023-05-03 13:08:35
2023-05-10 15:53:04
5th Digital Health Conference – UAE