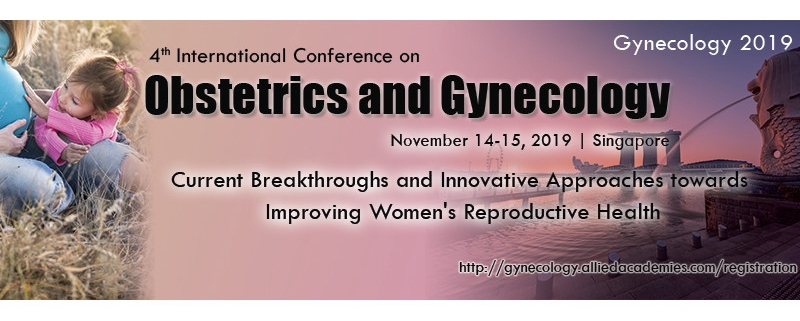 4th International Conference on Obstetrics and Gynecology
It's our pleasure to invite all the participants from all over the world to attend the 3rd International Conference on Obstetrics and Gynecology which is scheduled to be held during November 14 – 15, 2019. The main theme of our conference is "Current Breakthroughs and Innovative Approaches towards Improving Women's Reproductive Health" which covers a wide range of critically important sessions.
Gynecology 2019 is a unique forum that brings together worldwide renowned academicians from every field related to gynecology under a single roof. The meeting emphasizes on providing the ideal ambiance to broadcast and increase the current knowledge in the arena of Gynecology and Women Health.
The two-day conference offers a plethora of multifarious sessions like "Gynecologic Oncology, Midwifery, Abortion and Women Health, Clinical Sexology, Urogynecology, Maternal-Fetal Medicine, and Obstetrics, Aesthetic Gynecology "and much more. It hosts keynote forum, plenary lectures, poster sessions, exhibitions. Young Research Forum, B2B meetings, and workshops are the added highlights of Gynecology 2019 conference.
It is our ideology to give a platform and exposure to our global attendees so that the event is a whisk that covers professionals such as Researchers, Gynecologists, Obstetricians, Veterans, Women's Healthcare Professionals from academia and different industries making the conference a perfect platform to share and gain their knowledge. The Conference will likewise have a space for firms as well as foundations to show their products, services, innovations and scientific results.
Conference Sessions
Gynecology and Obstetrics
Benign Gynecologic Disease
Gynecologic Infectious Diseases
Gynecologic Oncology and Screening
Breast cancer and Pregnancy/Lifestyle
Reproductive Medicine and Fertility
Reproductive Genetics
Maternal-Fetal Medicine and Obstetrics
Trimester and Neonatology
Clinical Sexology and Sex Therapy
Cosmetic and Aesthetic Gynecology
Midwifery and Gynecology Nurses
Medical Complications in Pregnancy
Abortion and Women Health
Menstrual Cycle and Menopause
Menstrual Disorders
Gynecological Health Disorders
Polycystic ovarian syndrome and Infertility
Urology and Uterine Infections/Diseases
Pediatric and Adolescent Gynecology
Palliative Care in Obstetrics and Gynecology
Gynecology Test and Surgical Procedures
Urogynecology and Reconstructive Pelvic Surgery
Non-Hormonal Treatments in Gynecology
IVF and Assisted Reproductive Technology
Nutrition during Pregnancy and Drug Effects
Physical Therapy During Pregnancy
Contraception and Family Planning
Contact Information
Name: Summer Watson
Phone: [email protected]
E-Mail: +44 2037691755
Website: https://gynecology.alliedacademies.com/
https://www.vydya.com/wp-content/uploads/2019/06/2019-11-14-Gynecology-Conference-Singapore.jpg
603
800
admin
https://www.vydya.com/wp-content/uploads/2017/05/vydya-logo-blog-340x156.png
admin
2019-06-03 17:30:44
2019-06-03 17:30:44
4th International Conference on Obstetrics and Gynecology