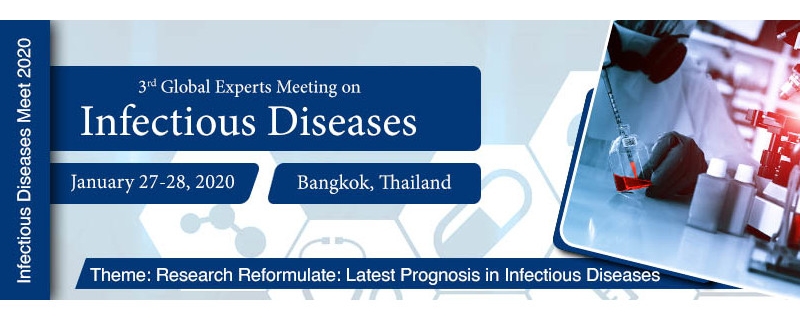 3rd Global Experts Meeting on Infectious Diseases
Conference Series takes the immense Pleasure to invite participants from all over the world to attend the "3rd Global Experts Meeting on Infectious Diseases(Infectious Diseases Meet 2020)", to be held in Bangkok, Thailand during January 27-28, 2020. Infectious Diseases Meet 2020 program focuses on "Research Reformulate: Latest Prognosis in Infectious Diseases".
In collaboration with its Editorial Board Members along with institutional partners the Infectious Diseases Meet 2020 includes various people presenting their research in the form of Keynote speeches, Oral Presentations, Video presentations, Symposia, Workshops, Poster Presentations, E-Posters and Exhibitions covering a range of topics and important issues which may be helpful for us all from the research to the practical implementations.
Conference Sessions
Emerging Infectious Disease Update
Molecular Immunology and Gut Microbes Research
Clinical Microbiology, Bone and Joint Infections
Antimicrobial Agents and Chemotherapy
Immunization and Infection Control
Sexually Transmitted Infections
Cancer Epidemiology, Biomarkers & Prevention
AIDS
Critical Care Medicine and Experimental Medicine
Antibiotics and Inflammation
International Child Health and Paediatric Infections
Ebola and Zika Viral Infections
Vaccine Immunology and Therapeutics
Microbiology and Bacteriology
Tropical Medicine and Infectious diseases
Hospital Mortality due to Infections: Dengue: A Global Threat
Gastrointestinal & Urinary Tract Infections
Neuro Infectious Diseases
Dental and Oral Infectious Diseases
Infectious Diseases in Obstetrics and Gynecology
Tuberculosis and Pneumonia
Medical Health Care and Womens Health Issues
Global Infectious Diseases
Microbial Drug Resistance
Virology : Research Advancements
HIV/AIDS Prevention, Medicine Research and Control
https://www.vydya.com/wp-content/uploads/2019/09/2020-01-27-Infectious-Diseases-Conference-Thailand.jpg
603
800
admin
https://www.vydya.com/wp-content/uploads/2017/05/vydya-logo-blog-340x156.png
admin
2019-09-05 04:57:47
2019-09-05 04:57:47
3rd Global Experts Meeting on Infectious Diseases