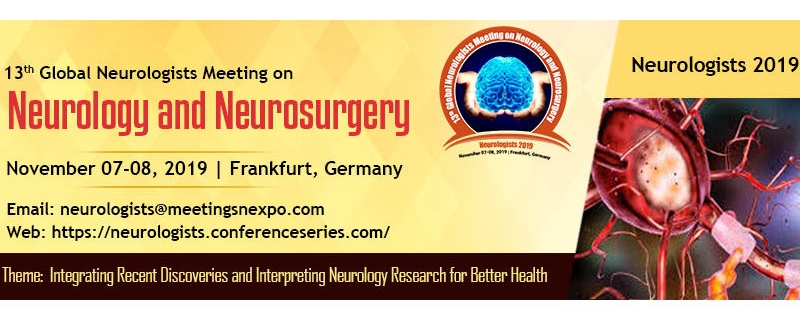 13th Global Neurologists Meeting on Neurology and Neurosurgery
Neurologists 2019 aims to bring together leading academic scientists, researchers, and research scholars to exchange and share their experiences and research results about all aspects of Neurology Treatment and Neurosurgery.
It also provides the premier interdisciplinary forum for researchers, practitioners and educators to present and discuss the most recent innovations, trends, and concerns, practical challenges encountered and the solutions adopted in the field of Neurology and Neurosurgery.
The highlights of the Neurologists 2019 are Neurons and Neurology, Neurosurgery and spine surgery, Neuroscience, Neurologists, Parkinson's disease, Neuropsychology, Neuropharmacology and Neurochemistry, Epilepsy and its Treatment, Anxiety and Depression, Neuro-Ophthalmology and sleep disorders and Case Reports on Neurology & Neurosurgery.
Conference Sessions
Neurons and Neurology
Neurosurgery and spine surgery
Neuroscience
Neurologists
Mental Health: Alzheimer's Disease and Dementia
Parkinson's Disease
Huntington's Disease
Stroke and Neurological Disorders
Neuropsychology, Neuropharmacology and Neurochemistry
Central Nervous System
Neuropsychiatry and Clinical Neurology
Neuroimmunology and Neurotransmitters
Epilepsy and its Treatment
Brain Tumours & Neuro Oncology
Neuromuscular and cognitive Disorders
Anxiety and Depression
Neuro-Ophthalmology and sleep disorders
Neuroimaging and Radiology techniques
Novel Neurotherapeutics and Diagnostics
Neuropediatrics and Neurorehabilitation
Case Reports on Neurology & Neurosurgery
https://www.vydya.com/wp-content/uploads/2019/05/2019-11-07-Neurosurgery-Conference-Frankfurt.jpg
603
800
pubevntusr
https://www.vydya.com/wp-content/uploads/2017/05/vydya-logo-blog-340x156.png
pubevntusr
2019-05-09 16:18:52
2019-05-09 23:05:34
13th Global Neurologists Meeting on Neurology and Neurosurgery