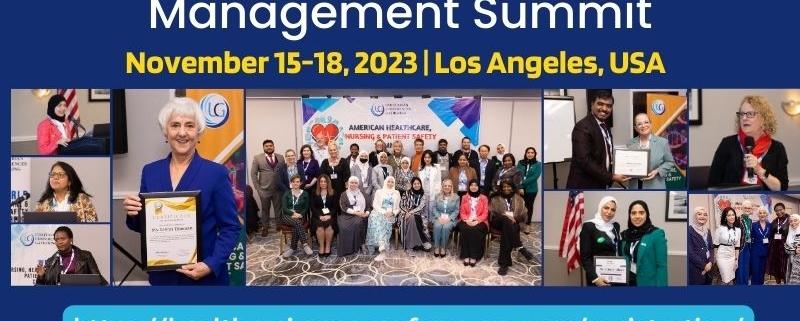 13th American Healthcare & Hospital Management Summit
We cordially invite you to attend the "13th American Healthcare & Hospital Management Summit; (13AHSUCG2023)," which will be conducted from November 15-18 as a hybrid event in Los Angeles, USA, and electronically, in the wake of the 11 prior-Healthcare conferences' tremendous success. The primary focus of the conference will be "Connecting Leaders in Healthcare Transformation and Bringing Learning to Life, Together toward Building Quality for a Safer Healthcare & Hospital Management."
Medical professional consultations, interactive lectures by lecturers from across the world, and quick condition diagnosis are all included. You can benefit from the knowledge and experience of seasoned specialists in the medical field, cosmetic medicine, production and distribution of professional products and equipment for medical centres, and other related fields.
American Healthcare & Hospital Management Summit brings together experts in the worldwide business, up-and-coming fast-growing companies, new technology inventors, and members of the investment community. It is the largest and most educational health care investment symposium in the sector.
The healthcare industry is dynamic and ever-evolving.  We must make inventive improvements, such as enhancing outpatient therapy, highlighting ethnic accomplishment, improving patient health and experience, and improving physicians' data analysis skills, in order to accept new difficulties and advance in your profession. Recently, innovation and intelligence across all sectors have been the driving forces behind the creation of modern technical systems and software in the healthcare industry.
Thanks to (13AHHSUCG), you will be exposed to a variety of viewpoints as well as the most recent advancements and innovations in the nursing industry.
USA Visa Assistance
We are here to assist you in applying for a visa. We will guide you through the visa process once you have registered as a speaker/listener/poster. The visa will be valid for 5-10 years.
Call for Abstracts/Papers/Presentations
Internationally invited authors, researchers, and managers are respectfully requested to submit their live presentations, research abstracts, articles, and eposters in order to participate in and define the Healthcare Conference 2023. The conference gladly invites all the chosen, high-caliber research contributions that represent the original, as yet unpublished findings of conceptual, constructive, empirical, experimental, or theoretical work in all fields of nursing. The conference seeks presentations, abstracts, papers, and electronic posters that address the conference's themes and topics and include figures, tables, and references to cutting-edge research resources.
Los Angeles is a flourishing and active city with a high quality of life and diverse neighbourhoods that offer uniquely Los Angeles experiences. Meeting participants will enjoy unique experiences, culture, diversity, and world-class amenities. It's also a safe, inviting city with a well developed transit network, a vibrant downtown region, and a plethora of easily accessible airports, Venice Beach, landmark museums, world-famous theme parks, wineries, breweries, outdoor activities, exciting nightlife, and much more,
CALL FOR ABSTRACT IS OPEN!

Primary Healthcare, Hospital Management, Mental Health and Behaviour, Metabolic Problems, Child health Poisoning, Toxicology, Environmental Health, Coronavirus disease (COVID-19), Global health ethics, Health economics, Health Equity, Health impact assessment, Adolescent health, Brain health, Health promotion, Substandard and falsified medical products, Universal Health Coverage, Urban health Vaccines and immunization, Sexual Health, Metabolic Problems, Pregnancy and Reproduction, Immune System, Physical Activity and Nutrition, Injury & Violence Prevention, Non-communicable diseases, Metabolic Problems, Healthcare Management
Important Updates: Group Discount is Available (5+Members)
The 13th American Healthcare & Hospital Management Summit attract over 1000+ attendees every year.
Submit your Proposal to speak at an in-person conference event today
Email: [email protected]
Conference Registration link: https://health.universeconferences.com/registration/
CONFERENCE SESSIONS
Track 1 : Primary Healthcare
Track 2 : Metabolic Syndrome
Track 3 : Pharmaceutical Service
Track 4 : Public Health and Nursing
Track 5 : Nutrition and Dietetics
Track 6 : Healthcare Informatics
Track 7 : Healthcare Applications and Technologies
Track 8 : Change Management
Track 9 : Health Communication and Health Information Technology
Track 10: Health Promotion
Track 11: Health Economics
Track 12: Sexual and Reproductive Health
Track 13: Family Planning
Track 14: Mental Health
Track 15: Artificial Intelligence
Track 16: Sports Medicine in Health
Track 17: Legal and Ethics in Healthcare
Track 18: Advance Care Planning (ACP)
Track 19: Maternal Infant and Child Health
Track 20: Occupational and Safety Health
Track 21: Infection, Prevention and Control
Track 22: Adolescent and Young Adults Health
Track 23: Epidemiology
Track 24: Non Communicable Disease
Track 25: Vaccines and immunization
Track 26: Climate Change Issues & Global Public Health
Track 27: Health care services and systems
Track 28: Health promotion, Health literacy, Behavioural insights
Track 29: Health Insurance
Track 30: Tele-health/ e-health
Track 31: Environmental Health
Track 32: Oral Health
Track 33: Social Determinants of Health
Track 34: Brain Health
Track 35: Healthcare Marketing
Track 36: Diabetes Nursing
Track 37: Immune System
Track 38: Precision medicine
Track 39: Trauma Management
Track 40: Retail Healthcare
Contact Information
Name: Dr. Pascal Annie MD, Ph.D.
Phone: WhatsApp: +44 2033222718
E-Mail: [email protected]
Website: https://health.universeconferences.com/
https://www.vydya.com/wp-content/uploads/2023/03/13th-American-Healthcare-Hospital-Management-Summit_Los_Angeles_USA_2023-p.jpg
600
800
admin
https://www.vydya.com/wp-content/uploads/2017/05/vydya-logo-blog-340x156.png
admin
2023-03-10 17:29:41
2023-05-23 11:09:39
13th American Healthcare & Hospital Management Summit