Jan
23
Thu
12th World Congress on Alzheimers Disease & Dementia

@ Bangkok, Thailand
Jan 23 @ 9:00 am – Jan 24 @ 6:00 pm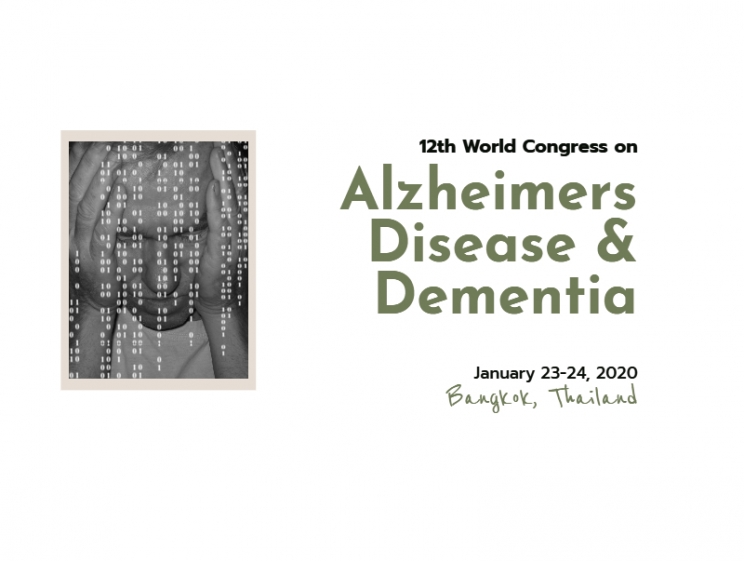 Alzheimer's Congress 2020 scheduled during January 23-24, 2020, at Bangkok, Thailand, is the leading meeting dedicated to Neurologist, Psychiatrists, and Researchers with the theme "Innovative approaches to defeat Alzheimer's disease and Dementia"
Alzheimer's Congress 2020 provides a great platform by gathering eminent professors, researchers, students, and delegates to exchange new ideas. The conference will cover a wide range of topics and allow participants to discuss the management of diseases. Best poster presenters will be judged and awarded during the conference. To encourage broad participation from all over the world Conference Series LLC Ltd is offering reduced registration fee for students.
Alzheimer's Congress 2020 will assemble prestigious speakers, important examiners, specialists, neurologists and Dementia analysts from both scholarly community and social insurance industry will consolidate to talk about their perspectives and research.
The gathering will involve sessions by world-class specialists in the field of neurology. In Alzheimer's Congress 2020, global symposiums, B2B gatherings, worldwide workshops will likewise be sorted out to talk about the particular points in the field of Alzheimer's Disease and Dementia and Neurology.
---
Published by Vydya Health Professional Services.
Feb
24
Mon
3rd MedExpo Africa 2020

@ Addis Ababa, Ethiopia
Feb 24 @ 9:00 am – Feb 26 @ 6:00 pm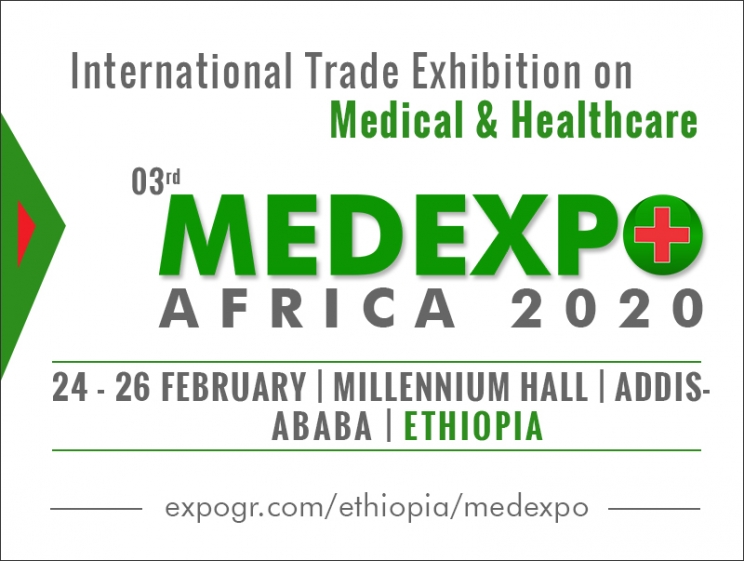 We cordially invite you to the "3rd MedExpo Africa 2020" to be held on February 24-26, 2020 at Addis Ababa, Ethiopia.
After 20 years of successful shows in Kenya and Tanzania, MEDEXPO AFRICA – the region's leading international medical trade fair makes its foray into Ethiopia. Taking place at The Millennium Hall, Addis Ababa, from 24 – 26 February, 2020, the exhibition will bring together industry professionals from the world's leading healthcare and medical suppliers, manufacturers and service providers, all under one roof, to showcase the latest industry innovations, network and do business.
Exhibition Categories
HOSPITAL SUPPLIES
Catering Equipment & Services
Cleaning Equipment & Services
Bio Technologies
Climate Control
Environmental Conservation
Laundry
Recruitment & Training
Security Systems
Storage & Handling
Healthcare Building Servicesl
Hospital Furniture & Interiors
Hospital Management
IT & Communication
Maintenance Services
Waste Management
Transport – Ambulances Etc.
Uniforms
Water Treatment
MEDICAL EQUIPMENTS
Suction devices
Anesthetic equipment
Audiometers
Respiration equipment
Imaging equipment
Blood flow measurement
Blood pressure equipment
Surgical instruments & products
Computerized tomography (CT)
Diagnostic instruments & apparatus
Dialysis equipment
Electro surgical instruments (HF)
Electroencephalographs
Electrocardiography (ECG) equipment and accessories
Electro- therapy equipment
Endoscopes and accessories
Ultraviolet & infrared radiation equipment
Thermotherapy systems (HF)
Lab-ware
Ultrasonic devices for diagnosis
Fibre optics equipment
Hot air apparatus
Cardiac catheterisation equipment
Infusion technology equipment
Implants and prostheses
Inhaler and aerosol appliances
Incubators (Electromedical Equipment / Medical Technology)
Cardiac therapy equipment
Microscopes
Ultrasonic devices for treatment Medical lighting
Myography equipment
Nuclear medicine equipment
Optical filters
Patient monitoring systems / Measuring stations
Stimulation equipment for diagnostics / therapy
X- ray devices and accessories
MRI scanning Equipment
Oxygen equipment
Visual support systems
Sterilisation & disinfections eqpt.
Sterilisation disinfections services
Stethoscopes
Technical equipment management
Equipment for treatment with gases
Electromagnetic wave eqpt / Biofeedback systems
Catheters
Colposcopy
Disposables
Cryotherapy / Cryosurgery equipment
Laser surgery equipment
Laser myography equipment
Laser therapy equipment
Lithotripsy equipment
Magnetic resonance(MR)
Transcutaneous equipment for nerve stimulation
Surgery and Dermatology
PHARMACEUTICALS
Physiotherapy – psychiatry
Orthopaedics
Anaesthesiology
Cardiology
Consultancy
Diagnostics & Tele-Medicine
Disposables
Neurology
Nutrition
Obstetrics & Gynecology
Ophthalmics
Paediatrics
Pathology
Pharmacology
Radiology
Research
Surgery
DENTAL
Dental instruments equipment and surgeries cabinets
Maintenance & repair of dental equipment
Dental care
Medicines
Filling materialist
Radiology equipment and products, X ray diagnostics
Sterilization systems
Materials for dentures
Dental care products
HEALTHCARE
Medicinal herbs preparations
Mineral & Food Supplements & Vitamins
Dietetic & Nutritional Products
Personal Hygiene Products
Incontinence Products
Herbal & Ayurvedic formulations
Homeopathic Preparations
Dermatological Preparations
Mother & Baby Care
Baby Foods
Fitness Equipment in healthcare
VETERINARY
Medicine
Instruments
Hospital Equipment
Accessories
OPTICAL
Eye Testing Equipment
Optical and sun frames
Sunglasses
equipment & accessories
for sales outlets
Equipment & components
Manufacturing frames and lenses
Equipment & accessories
Ophthalmic Lenses
Contact lenses
Optical instruments
Instruments
---
Published by Vydya Health Professional Services.